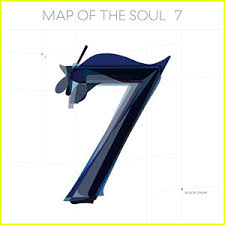 Our boys have it again and this album does not disappoint.
Go on, sing along to BTS's ON while I continue to obsess over them.
To tell the truth, my favorite part in this masterpiece is the line:
Find me and I'm gonna bleed with ya
and I know we can all agree that whoever styled this men deserves an award and a hug from us all!!!
Such talent, such meaning, such heart!!
[방탄소년단 – ON 가사]

[Verse 1: Jimin, V]
I can't understand what people are sayin'
Eoneu jangdane majchwoya doelji
Han baljagug ttemyeon han baljagug keojineun shadow
Jameseo nuneul tteun yeogin tto eodi
Eojjeom seoul tto New York or Paris
Ileonani hwicheongineun mom

[Verse 2: RM]
Look at my feet, look down
Nal dalmeun geulimja
Heundeullineun geon inominga
Animyeon nae jageun balkkeutinga
Dulyeobjanheul li eobsjanha
Da gwaenchanheul li eobsjanha
Geulaedo I know
Seotulge I flow
Jeo kkaman balamgwa hamkke nala

[Pre-chorus: Jimin, Jungkook, Jin]
Hey na-na-na
Michiji anheulyeomyeon michyeoya hae
Hey na-na-na
Naleul da deonjyeo i du jjog sesange
Hey na-na-na
Can't hold me down 'cuz you know I'm a fighter
Je ballo deuleoon aleumdaun gamog
Find me and I'm gonna live with ya


[Chorus: All, Jungkook, Jimin]
(Eh-oh)
Gajyeowa bring the pain, oh yeah
(Eh-oh)
Ollatabwa bring the pain, oh yeah
Rain be pourin'
Sky keep fallin'
Everyday oh na-na-na
(Eh-oh)
Gajyeowa bring the pain, oh yeah

[Verse 3: jhope]
Bring the pain
Modu nae piwa sali doegessji
Bring the pain
No fear, bangbeobeul algesseuni
Jageun geose breathe
Geugeon eodum sog nae sansowa bich
Naega naige haneun geosdeului him
Neomeojyeodo dasi ileona scream

[Verse 4: Suga]
Neomeojyeodo dasi ileona scream
Eonjena ulin geulaesseuni
Seollyeong nae muleupi ttange daheuljieonjeong
Pamudhiji anhneun isang
Geujeo geuleon haepeuningjjeum doel geolan geol
Win no matter what
Win no matter what
Win no matter what
Nega mwoladeon nuga mwoladeon
I don't give a uhh
I don't give a uhh
I don't give a uhh yeah


[Pre-chorus: Jimin, V]
Hey na-na-na
Michiji anheulyeomyeon michyeoya hae
Hey na-na-na
Naleul da deonjyeo i du jjog sesange
Hey na-na-na
Can't hold me down 'cuz you know I'm a fighter
Je ballo deuleoon aleumdaun gamog
Find me and I'm gonna live with ya

[Chorus: All, V, Jin]
(Eh-oh)
Gajyeowa bring the pain, oh yeah
(Eh-oh)
Ollatabwa bring the pain, oh yeah
Rain be pourin'
Sky keep fallin'
Everyday oh na-na-na
(Eh-oh)
Gajyeowa bring the pain, oh yeah

[Bridge: Jungkook, Jimin]
Naui gotongi issneun gose
Naega sum swige hasoseo
My everythin'
My blood and tears
Got no fears
I'm singin' ohhhhh
Oh I'm takin' over
You should know yeah
Can't hold me down 'cuz you know I'm a fighter
Kkamkkamhan simyeon sog gikkeoi jamgyeo
Find me and I'm gonna bleed with ya



[Chorus: All, Jin, V]
(Eh-oh)
Gajyeowa bring the pain oh yeah
(Eh-oh)
Ollatabwa bring the pain oh yeah
Rain be pourin'
Sky keep fallin'
Everyday oh na-na-na
(Eh-oh)
Find me and I'm gonna bleed with ya

[Outro: All, Jimin, Jungkook]
(Eh-oh)
Gajyeowa bring the pain, oh yeah
(Eh-oh)
Ollatabwa bring the pain, oh yeah
All that I know
Is just goin' on & on & on & on
(Eh-oh)
Gajyeowa bring the pain, oh yeah